Meet the essential building blocks of your surveillance system
With the expansion of IP-based surveillance solutions and improvements in camera resolution, storage requirements for video surveillance systems have grown exponentially, driving the need for open, low-cost storage options with enterprise-class features.

CoreStor guarantees secure retention and protection of surveillance video in post-terabyte era

Until now there has been a wide consensus between many security and IT professionals that general purpose shared storage will deliver the sufficient performance to record and store video streams without data loss. But with hard drive capacities increasing exponentially and their error rates remaining unchanged, without a storage system that has built-in enterprise-class drive redundancy and guaranteed end-to-end data integrity, your organization runs the risk that some data may not be stored at all or lost and not be available when needed most.
Video surveillance evidentiary data represents a powerful tool for ascertaining liability/innocence in litigation or incident corroboration scenarios. Collected in the usual course of business, this data may become essential in a court case or investigation, at which point its availability as electronic evidence depends on the reliability of storage system that protects data from corruption, errors and loss due to catastrophic disk failure.
CoreStor arrays are purpose-built for secure archiving and offer built-in data protection features to ensure that all your critical video footage is both stored and protected.
CoreStor delivers bullet-proof data integrity

Silent data corruption has not been a serious concern while disks remained relatively small scale. The users of hard drives that stored little amounts of data very rarely faced that problem. But with the advent of larger drives the data corruption threshold is reached and the issues such as bit rot, phantom writes, misdirected reads/writes, parity errors, driver bugs, and accidental overwrites are now considered to be problems with potentially devastating impact on business continuity.
Maintaining data integrity from when data is first written to when it is accessed is critical in video surveillance where ballooning file sizes are fueling the insatiable need for greater storage capacity.
CoreStor data protection features include:
Multipath and failover
Instant rollback when virus attacks or accident deletes
Reduce the impact risks of disk failures
Protect data against disasters
Increase application availability
Automatic data synchronization to avoid traffic jam
Flexible configurations for various storage plans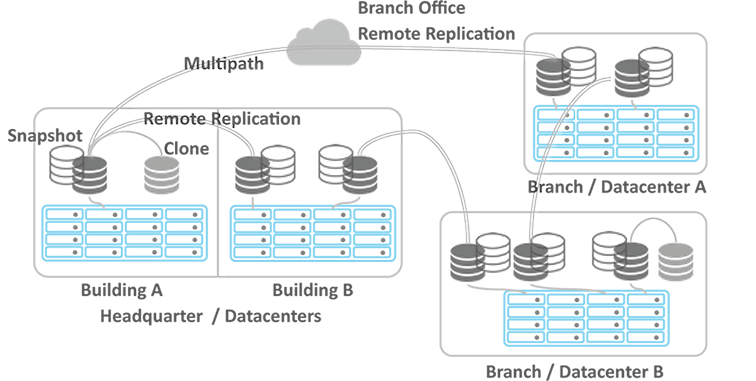 CoreStor data protection is more secure and more reliable than traditional RAID

Hard drive failures are the leading cause of equipment failure with video surveillance that can put all recorded data, from any number of cameras, at a risk of a loss.
As disk drive densities continue to increase, data loss due to multiple simultaneous failure events in a RAID group has become a growing risk. Double-parity RAID, known as RAID 6, is the current standard for space-efficient storage.
The incredible growth of hard-drive capacities, however, imposes serious limitations on the reliability of RAID 6 systems. Hard disks bit error rate has failed to match the rate of growth of their capacity and as the time required for rebuilding a disk increases, so does the likelihood of data loss in a surveillance system.
With anticipated widespread deployment of 4TB, 6TB, and now even 8TB drives in video security systems, the repair of a high-density disk drive in a RAID group will take so long as to effectively strip away a level of redundancy.
As hard drive capacities continue to outpace their bit error rate, CoreStor offers Fast Rebuild with embedded hardware RAID engine. It greatly reduces the system loading, minimizing the performance impact by only rebuilding the partitions with data.